Brown bear watching & wildlife tours on the coast of Katmai National Park, Alaska
---
Photographing the Coastal Brown Bears of Alaska
I traveled to Katmai National Park and Preserve in southern Alaska to photograph that region's famous coastal brown bears. With me were several other accomplished photographers.
And a whirlwind trip it wasóI was in Alaska for just 3 daysóbut every day was better than the last, with increasingly wonderful encounters with these impressive animals. it was somewhat eerie, however, to know that we were photographing just a few miles from where Timothy Treadwell and Amie Huguenard were killed at Kaflia Bay in 2003.
Katmai National Monument was created in 1918 after the eruption of Novarupta in 1912, the most violent volcanic event of the 20th Century. The area has been a National Park & Preserve since 1980, an area of over three and a half million acres remaining almost entirely free of the influence of man for almost a hundred years.
The ash disgorged from Novarupta totally reset the original grassland ecology of the area. Colonization by alder trees and subsequent nitrogen fixation allowed development of the diverse mix of plants and animals present today. The large tidal range of the Shelikof Strait and the rivers flowing down from the mountain glaciers form a coastal landscape of tidal flats and lagoons which form an ideal habitat for the Alaskan brown bear. Today the area is famed for large numbers of these magnificent animals who grow large on the abundance of salmon running the rivers, clams on the beaches and the protein rich sedges and other salt tolerant plants growing in the tidal lagoons.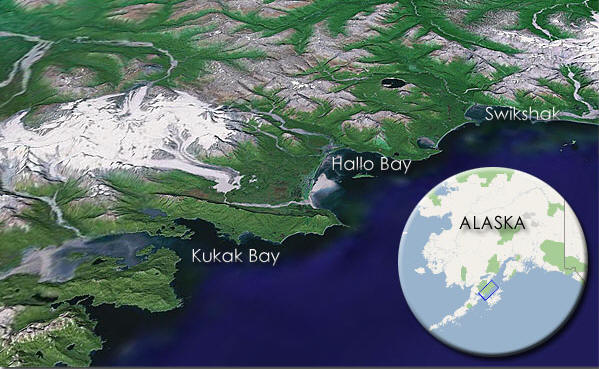 Site created & maintained by Net Alaska Web Services Homer, Alaska
© Katmai coastal Tours and Net Alaska Web Services, Homer, AK