Brown bear watching & wildlife tours on the coast of Katmai National Park, Alaska
---
Our Guide/Naturalists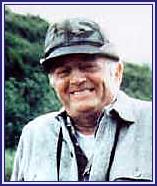 Will Troyer

Will contributed to the idea and development of Katmai Coastal Bear Tours. Will Troyer was a professional wildlife biologist with the U.S. Fish & Wildlife Service and the National Park Service in Alaska for 30 years. In his early career he pioneered the live-trapping of brown bears for scientific purposes on Kodiak Island. In addition to working with brown bears on Kodiak and Katmai for 15 years, Will conducted studies on caribou, moose, Dall sheep, bald eagles and trumpeter swans in various parts of Alaska.

Lynn Rogers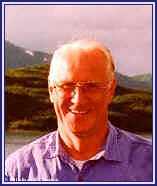 Dr. Lynn Rogers is known as the Diane Fossey of black bears for his 30 years of research, which included actually living with wild black bears to learn their behavior and language. Lynn holds a Ph.D. in Behavioral Biology and Ecology from the University of Minnesota. His work has been the subject of many magazine articles and TV programs, including National Geographic Explorer, Wild Kingdom, and Nature. His work was most recently featured with the Discovery Channel, where Lynn has placed a Web-Camera with a denning black bear for the world to monitor on the internet. He is recognized as one of the world's leading authorities on bear behavior. He says, "I'm cautious around grizzly bears I don't know, but in all the hours I've spent close to these intelligent animals in the wild, I've never felt threatened." It would probably be impossible to find a better field leader. Lynn's scheduled time on the boat is very active with interest. To learn more about bears and Lynn himself, click Here. To view and order prints of Lynn's photos click here.

Three short articles by Lynn Rogers:
Observing Grizzlies | Bear Watching | Living on the Boat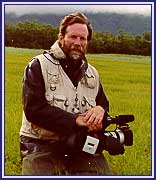 Dr. Steve Stringham holds a Ph. D. in behavioral and population ecology, University of Tennessee. Dr. Stringham began his career as a marine ecologist, and would be delighted to introduce you to the rich intertidal areas of the Katmai coast.

Dr. Stringham's research has focused on the behavioral patterns of bears. He now spends each summer with bears on the Alaska Peninsula, learning to understand grizzly bears -- you may have the opportunity to spend a day in the field with him.

Jim Halfpenny, Ph.D, is a scientist and educator whose background is the mammology and ecology including polar, alpine, long-term specialties. he has been tracking since 1957 and teaching tracking since 1969. Jim is author of many books, articles, and videos. Since 1961, Jim has taught outdoor education and environmental programs for state, federal, and private organizations. Jim has conducted research and lead expeditions to the four corners of the world including both polar regions, the deserts and mountains of China and Africa, and the forests of the tropics. Jim resides in the Greater Yellowstone Ecosystem.
http://www.tracknature.com
Chris Morgan is a British conservation ecologist specializing in international bear research and conservation. He has a Masters degree in Advanced Ecology and has worked on bear research and environmental education projects in many wild locations including Spain, the Pakistani Himalayas, the Canadian Arctic, Ecuador, the Canadian Rockies and the USA. In 1997, he established Insight Wildlife Management which specializes in field research and education – especially regarding bears and other carnivores. Chris is the co-founder of Canopy - an organization that creates links between corporations, communities, and the natural world, and a lecturer at Western Washington University's Environmental Science Department. He is also the co-director of the North Cascades Grizzly Bear Outreach Project (GBOP) – an innovative approach to promoting knowledge about bears in local communities. He is known for his infectious passion and enthusiasm for wild places, and he is happiest when sharing this with others in the field. He has been leading bear viewing trips to Katmai since 1998. Chris lives in Bellingham, Washington.
For more info about Chris:
IWM web site: www.insightwildlife.com
Grizzly Bear Outreach Project web site: www.bearinfo.org
Canopy web site: www.thecanopy.org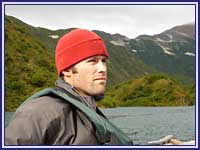 Brad Josephs is a naturalist interpreter and bear viewing guide specializing in the Alaska Peninsula and Katmai National Park. Brad is a student and a teacher of all aspects of the Katmai Coastal Ecosystem, including birds, plants, fish and especially bears. Brad attended the University of Alaska, Fairbanks with a B.S. in Wildlife Biology. In the mid-90s, Brad served as research tech on various projects studying population dynamics and genetic diversity of small mammals in various regions of Alaska. In 1999, Brad was an Intern Tech for the Alaska Department of Fish & Game at the McNeil River State Game Sanctuary under Derek Stonorov and Larry Aumiller. Since 2000, he has guided boat based, remote camp based, and backpacking trips along the Katmai Coast. While working for Katmai Coastal Bear Tours, Brad has assisted and guided numerous professional photographers, including Art Wolfe, and a variety of production companies, including IMAX, Animal Planet, BBC, PBS, and Discovery HD Theater. Brad spends his autumns in Churchill, Manitoba as Expedition Leader on polar bear viewing trips for Natural Habitat Adventures. Brad lives in the hills above Homer, Alaska, but his love for wildlife has led him on numerous solo journeys throughout the world, including Africa, Belize, the Amazon, Borneo, Sri Lanka, and India.
Dr. Mark Newman resides and practices medicine in Anchorage, Alaska. Mark has photographed coastal bears in Alaska for 20 years. Along with other subjects his pursuit of photography, which is his first love, has taken him all over the world.
Kent Fredrikson, a native of Sweden, is a master carpenter specializing in building custom cabins in remote locations. He has been photographing and camping with the bears of the Katmai Coast and Kodiak Island for ten years. To view Kent's photographs click HERE and HERE.
Assists John Rogers skippering M/V Waters, also offers freelance videographer/photographer services. He is a 14 year commercial fisherman with background in photography and film production. He has worked as camera operator on projects the National Geographic Channel and Alaska Channel. He's familiar with area geography and locations from the Aleutian Islands to Southeast as well as Interior Alaska. He has also worked as a freelance videographer/photographer and has his own High Def camera package including lights and sound. He has studied cinematography at Brooks Institute of Photography and is dive certified.
Michael Parks and Lydia Rabotini are pursuing other adventures.
Michael and Lydia contributed to the idea and development of Katmai Coastal Bear Tours and have an interest in the future of the bears along the coast of Katmai National Park.
Michael Parks has been working in Iceland on the Free Willy Project. On the right is Michael with the world's most famous whale.
Spike Christopher
Spike Christopher joined the crew of the M/V Waters in 1999, assisting John with the operations of the Waters, in addition to guiding and accompanying guests ashore. Spike is an avid videographer and an exciting storyteller - a lifelong Alaskan and retired Alaska Police officer, Spike is an open book when it comes to Alaskan history.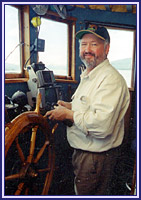 John Rogers, owner of M/V Waters, is an advocate for conservation and protection of Katmai's coastal bears. John has explored Katmai's coast every year since 1989 and continues to explore and expand the horizons of the Alaska Peninsula.
John spends summers exploring the coast and bears of Katmai with individuals seeking a unique Alaska adventure. After working with numerous film producers, John is pursuing movie documentary ideas about the Coastal bears he's come to know and care about.
David Lickley, IMAX film "Bears"
Jeff Turner, River Road Films, "BBC"
David Attenborough, "BBC"
Kratt Bros. Children's TV Show
Andrew Chastney, "BBC"
Transglobe Film of Spain
Gondwana Film of Spain

"Being responsible for your decisions"
In a bear's environment you must give in to the fact that only by the decisions that you make can you help to create a safe bear encounter. A bear's life thrives on instinct, gestures and intent. Along with his enhanced senses of smell and hearing, a bear is constantly making decisions that are best for him. Your choices have to be best for the bears also.

"M/V Waters / Bears / The Idea" A short description of our business.
Services For Filmmakers Across Southwest Alaska

[ Home ]
[ Site Map ]
[ Tour Details ]
[ Booking Info ]
[ Photos ]